Whether you're heading back to campus, running backstage this week at NYFW, or in a snacking rut, finding that perfect (and not to mention healthy!) pick-me-up can be hard. Thankfully, there are tons of health-conscious options on the market these days. So if you're hunting for that fast fix to beat those munchies, we've got 10 delicious options for you to totally try. Looking to ditch the chips? We've got you covered! Need that tasty yet low-cal breakfast pick? Yes, we got that too! Read on to find your new favorite snack.
1. Nourish Snacks: No matter what your cravings are, Nourish's unique snack shop allows you to mix and match mouthwatering snacks, which are all under 200 calories or less!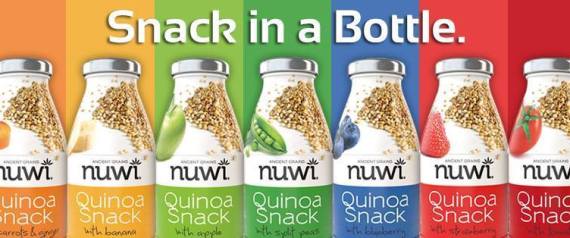 2. NUWI Quinoa Snacks: For a satisfying breakfast option, try out these nutritious quinoa drinks, which curb pesky cravings and give you that necessary boost of vitamins and minerals.

3. bare Crunchy Coconut Chips: Curb your chip addiction with these flavorful coconut chips available in sweet and salty variations.
4. Ians Cinnamon French Toast Sticks: Great for those with food allergies and sensitivities, these gluten-free cinnamon sticks never sacrifice toast or flavor.
5. Perfect Bar: A unique twist on the usual granola bars, make these organic, high protein bars a staple inside your fridge.
6. Way Better Snacks: Blending grains like quinoa, chia and flax seeds, don't be afraid to pack these snacks inside your work bag, too.
7. Angie's BOOMCHICKAPOP: Looking for that healthy after-school snack? Try out this lightweight popcorn for some true munching fun.
8. Mediterranean Organic Strawberry Preserves: Make a twist on the usual peanut butter and jelly with these sweet and organic preserves. Yum!
9. Natural Sea Tuna, Yellow Fin, Salted: Tuna salad can be equally fun for snack time as well. Need some cooking inspiration? Try whipping up some tuna salad crackers for your special someone.
10. Woodstock Peanut Butter, Smooth, Unsalted Organic: A classic school time favorite, use this smooth, organic peanut butter in a multitude of ways this school year.
You can purchase all reviewed and mentioned items using our site, www.BeautyStat.com!
What do you beauties think of our healthy snack time picks? What are you currently snacking on?
Let us know by commenting below (you just might win a free sample)! Make sure to follow us on our Pinterest page by clicking HERE! And don't forget to get the latest beauty and skincare news by following us on Twitter @BeautyStat! #bstat
– Courtney Leiva | Follow Courtney on Twitter @CourtneyLeiva
For more giveaways and contests, sign up for our newsletter HERE.
If you like this post, share it with your friends and give it a LIKE on Facebook.
Comments
comments