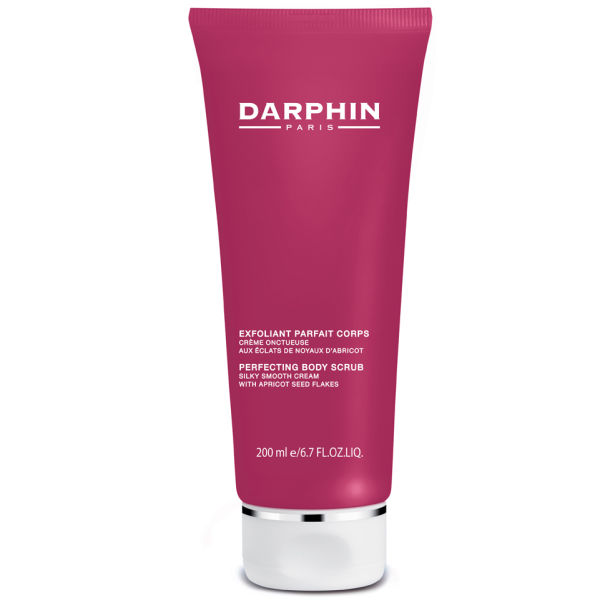 I've been very excited about the Darphin line, so when the Perfecting Body Scrub arrived I actually squealed. Darphin claims that the "delicate crème formula… emulsifies in water with dual-action exfoliation" and that it combines the "exquisite botanical ingredients of apricot seed flakes and peach leaf extracts with hyaluronic acid and shea butter to create a bespoke texture that helps to leave skin looking renewed and radiant."
Basically, it works on two fronts: The apricot seed flakes do the heavy work of removing dead skin cells and then the peach leaf extracts remove the remaining surface impurities through a micro-exfoliation process.
And how does it feel? Fantastic! This is the best scrub I have ever tried: gritty enough to make you feel squeaky-clean, but also smoothing and soothing — never harsh. I used it for several days and emerged from the shower feeling invigorated and with super-fresh, clean yet soft skin. The light, apricot/peach-infused fragrance didn't hurt either. A sure winner!
Another exciting new Darphin product came my way in the form of the Intral Cleansing Milk with chamomile. This cleansing milk is "particularly appropriate for sensitive skin." The gentle formula includes polysaccharide, chamomile and howthorn extracts, and claims to "remove makeup and impurities without irritating," so that skin is left clean, fresh and soft.
This could not have been a worse winter for skin in terms of weather — so cold, so biting and so dry. A cleanser that promised to clean without drying or stripping? Sign me up now! I tried this for several days and was very pleased with the results. The delicate, pale pink cream glides on like a dream and makes a gentle, non-drying and super-luxurious foam. And the delicate fragrance is swoon-worthy; my bathroom instantly became a spa. My skin felt fantastic after using this. Darphin scores with another winner!


The Aromatic Seaweed Bath and Shower Gel for the body "leaves skin fresh, soft and subtly scented" with a bouquet blend of 6 essential oils. The key ingredients are algae extract, lemon essential oil and a fragrance blend of 6 essential oils: orange, vetiver, galbanum, copahu, lemongrass and lemon. 80% of the total ingredients are from natural origin and the gel is dermatologist-tested and paraben-free.  
I am always on the lookout for a good bath/shower gel and this one gets very high marks. I used it for several days and found it is foaming, but not overly so. And the scent — a very important feature in a product of this kind — is a knockout! So fresh, so light, so invigorating — it's like the folks at Darphin were able to bottle the scent of the sea… seriously stocking up NOW.
You can purchase all products reviewed and mentioned on BeautyStat.com!
Are you beauties ready to shed your winter skin? Will you be indulging in any of these spa-like products?
Let us know by commenting below (you might win a free sample)! Make sure to check out our Pinterest page by clicking HERE! And don't forget to get the latest beauty and skincare news by following us on Twitter @BeautyStat!
– Yona McDonough
For more giveaways and contests, sign up for our newsletter HERE.
If you like this post, share it with your friends and give it a LIKE on Facebook.
Comments
comments